Digitech Studio School is part of the Cabot Learning Federation, a multi-academy trust that is responsible for a number of academies across Bristol, South Gloucestershire and North Somerset. Governance for a multi-academy trust operates at two levels. At trust level, there is a Board of Directors. The directors are accountable to the Department for Education and external government agencies, including the Charity Commission, for the quality of the education the trust provides and the effective use of the associated academy funding. They are required to have systems in place through which they can assure themselves of quality, financial probity, safety and good practice. The Board is provided assurance on a number of these areas through various sub-committees, as shown in the diagram below. For further information about the Board, please visit https://clf.uk/governance/.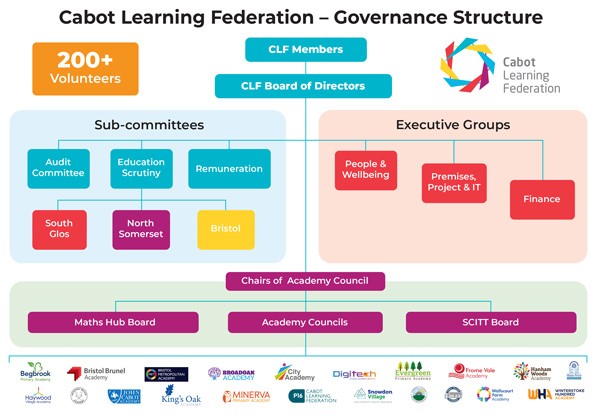 At a local level, each academy has an Academy Council comprising of up to 13 Academy Councillors. Academy Councils are responsible for holding Principals and their leadership teams to account for the quality and effectiveness of the academic experience of the students under their care with the aim of securing effective school improvement. They do this through monitoring performance against an annual academy improvement plan, through monitoring risks and responses to risks, and by overseeing systems and processes for the safeguarding of children and the health, safety and wellbeing of academy staff.
The Clerk to Academy Council, Charlotte Seavill, can be contacted by email
Chair of Studio School Council – Rob Gillman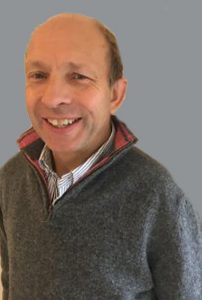 I am delighted to have the opportunity to Chair the Digitech Academy Council and to be involved in such an exciting, innovative and creative education programme that is so attuned to the changing patterns of employment and opportunity in the world in which we live.
By way of background, I have previously had a near 30 year career in financial services, specialising in risk management. I have also been involved for the last 5 years in another CLF Academy where I worked as a volunteer supporting GCSE Maths and also served on the Academy Council including as Chair for 18 months.
Russell Gallon – Sponsor Apointee
Having previously been a governor at the Grange School for several years I am pleased to join the Digitech Studio School Council.
In my day job I am a senior manager at AIRBUS and also a non-executive director of WEAF, the regional trade association for aerospace companies in the South West of England. I am passionate about the South West and Bristol and through my associate with WEAF I am amazed at the number of highly skilled and diverse jobs that are available within the region. Our challenge is to give students the visibility of their career opportunities and then inspire and enable them to take advantage of these. I am looking forward to supporting the school in meeting this challenge and ensuring the school is a great place where staff and students enjoy attending.
Lindsay Curry – Sponsor Appointee
Antony Merritt – Sponsor Appointee
Strategic Economic Development Manager – South Gloucestershire Council
I am an economic development professional with a 30 year career in both the private and public sector. My current role at South Gloucestershire Council involves managing a team to create and maintain the optimum conditions for business to thrive. This includes maintaining relationships with key companies and sectors in the area, supporting small and medium size businesses to start up and grow and to promote the area to potential investors.
Partnership working is crucial to my role and I work closely with many colleagues from across the West of England on a range of boards, committees and steering groups.
Before joining the Council, I was a founding Director of Digeo. A media consultancy company, Digeo implemented managed media solutions across the UK, Europe and the USA.
I began my career at the BBC after studying at the University of the West of England. Whilst at the BBC, I developed a platform for exploring how the organisation would need to change to meet the challenge of the internet as a mainstream consumer media platform.
Vacancy – Sponsor Appointee
Isabel Tobias – Local Authority Rep
As a teacher of many years, I bring extensive professional experience of working with young people and understanding their developmental, academic and mental health needs.
As a Headteacher of 19 years I also bring a deep understanding of the pressures on teachers and headteachers and commitment to providing the best possible educational experience to students. I have active experience of the scrutiny and compliance needed in all areas of education, and of HR processes in making appointments and managing staff at all levels. I bring experience of strategic planning and management and of implementing change, and overing seeing many new capital projects.
At Digitech I am the SEND link councillor.
Vacancy – Parent Councillor
Lee Bradford – Parent Councillor
Vacancy – Support Staff Councillor
Leila Henry-Thorne – Staff Councillor
Megan Ferguson – Student Advocate
Chris Ballard – Principal
Minutes
DSSB-Register-of-Pecuniary-Interests-2021-22